Welcome to Tech Tips! In this monthly series, our Tech Ops team will share simple tips and techniques to help you get the most out of the Club's technology resources.
Joining Interest Groups Online
Newcomers Club members have the opportunity to join other members in a wide selection of small group activities called Interest Groups. A listing of the Interest Groups can be found on the main Interest Group page. From there, simply click or tap on the photo or the group name to see more details about a particular group.
Note: In order to sign up for an Interest Group, you will need to be signed in to the website with your member account.
Once you're signed in, choose the desired group from the main Interest Group page. Towards the bottom, you will see a Join This Group button.
After you click the button, you will be asked to confirm your Gmail account (or enter a non-Google email address). Once you have completed that, you should receive email confirming that you have joined the group.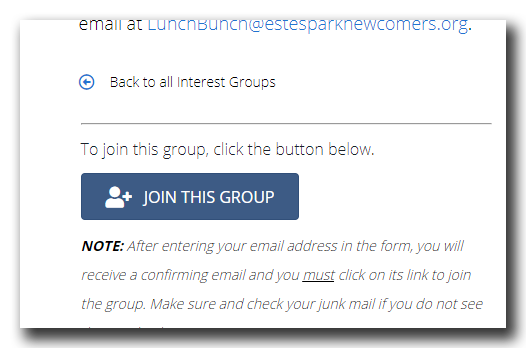 Participating In Interest Groups
Once you have joined, you should start receiving email notices from the group's leaders about upcoming gatherings.
You can reply to either the group leader, or reply-to-all for the entire group.
If you check the Club calendar, you will see scheduled Interest Group gatherings. Clicking any of those events, you will see the meeting time and place, along with additional info about that gathering.
If you decide to leave an Interest Group, simply unsubscribe from any email notice you receive. That notifies the leader, and removes you from their email distribution list automatically.