If the first time you ever played poker was in a casino with a bunch of skilled veterans, chances are that you did not have a good time. A much more enjoyable alternative is to play in a relaxed, social environment where everyone is there to just have fun. That's what the Men's Poker interest group is all about.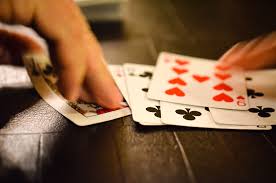 We are a really fun group of members, alumni, and even a few folks from the community. According to Newcomers alumnus and Men's Poker coordinator Scott Thompson, "We play dealer's choice, and the games range from Five Card Draw to Super Omaha, and all games in between. Betting is nickel/dime/quarter a maximum and raise limits. It's a $5 buy-in, where a big winner would make $8, and the big loser about the same."
The group plays on the 3rd Wednesday of each month, year-round, rotating between member homes. The host provides a meal and beverages. Come join a lively game of Men's Poker!
You can learn more about this interest group and sign up for Men's Poker here.