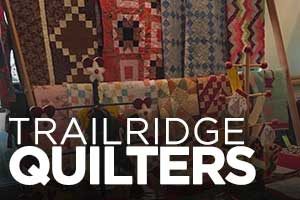 Trail Ridge Quilters will hold a fundraising sale of handcrafted items on Tuesday, November 12th from 11am to 2pm at Estes Park Health in the Longs Peak and Meeker conference rooms, 555 Prospect Avenue in Estes Park.
Hundreds of gorgeous items will be available for purchase, including large quilts, baby quilts, wall hangings, table runners, placemats, napkins, potholders, soft children's books, holiday items and much more! These beautifully handcrafted items make great gifts.
If you enjoy sewing, think about joining Trail Ridge Quilters from 1-4 p.m. each Tuesday at the Estes Park Health Longs Peak room. Our members can choose from a variety of patterns in our inventory or create your own projects. We host several sales throughout the year, and all proceeds are donated to EPH. Trail Ridge Quilters has been a part of Newcomers for 25+ years. Please come and join in the fun and be a contributor to Estes Park Health!
For more information, contact Donna Bryson (816-674-6642) or Donna Pierce (303-880-9151) or by email at Quilters@estesparknewcomers.org.