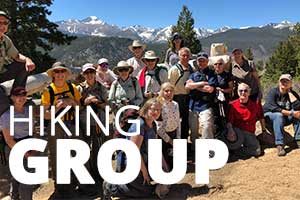 Come join the regular Hiking Group and explore the great outdoors in the Estes Park area with fellow hikers. We explore the various trails in RMNP and the national forest with an occasional field trip to a neighboring town. Hikes are generally between three to six miles in length with an average elevation gain of 1,000 feet. The regular hiking group meets on the 3rd Friday of every month from September to May, with some exceptions due to weather or holidays.
IMPORTANT: In order to participate in the hiking group, each member must complete the release form. Please download the form and return it completed & signed to hiking group leader, either by email or in-person at your first hike.
For more information, contact Dennis Fromholzer (303-859-5155) or David Converse (832-646-9397) or by email at Hiking@estesparknewcomers.org.
---
To join or see the members of this group, sign-in below.