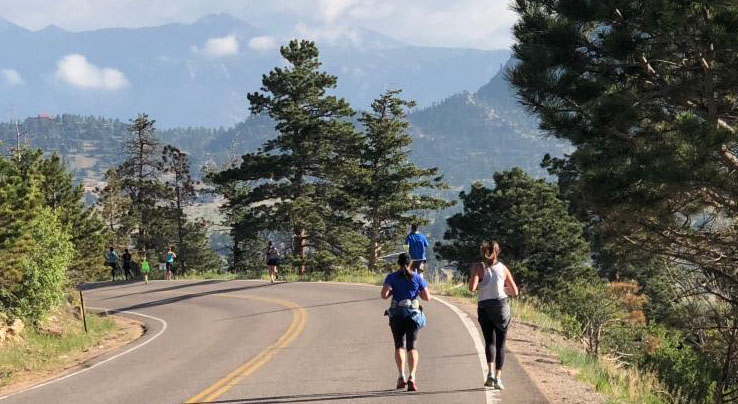 Please volunteer to help with the 16th Annual Estes Park Marathon and Half Marathon, 10K and 5K races on Sunday, June 16, 2019.
This large annual race is hosted by the Estes Park Running Club, and proceeds from the race support youth sports in Estes Park.
We can use all the volunteers we can get!  Your assignment will usually be for only 2 hours on race day.  If you can only help the day before, June 15, we can use help with race set up, too.
The full and half marathons start at the Dao House on Hwy 7, with staggered starts for walkers-only at 5:30am, the full marathon runners at 6:00am, and the half runners at 6:30am.  On race day we need help from 4:00am with loading the shuttle buses at the high school, to Noon-ish and even later, all about 2 hour shifts each.  We especially need "road marshals", who direct the runners where to go along the courses, especially where there are turns. Bring a folding chair for the expected gaps between runners, but you will need to stand and occasionally yell, for example:   "Turn here!"..."Move to the side of the road!"..."Stay on the trail!"..."Full marathoners go right, Half runners, go straight!", while eyeing the color of their bibs to give the correct instruction.  All of the races finish on the high school track.
Volunteers will report to the high school between 9 and 11:30 am the day before the race, June 15, to pick up their instructions and a map of exactly where they are to stand, a volunteer T shirt, orange vest, and last-minute instructions.
Race day is also Father's Day, which affects some people's plans, however, volunteers can complete their duties early, or join us in the early afternoon to help "sweep" the course for debris, cones, signs, etc. and to "break down" the set ups.
Alternatively, if you want to run or walk one of the 4 race distances, please register on our website.
If anyone has questions, they can email me, Ann Wise, EPM Volunteer Director, at volunteer@epmarathon.org.  I am also a member of Newcomers.