Book clubs are among the more popular Interest Groups in Newcomers with several from which to choose.
The Morning Book Club
Newcomer's Morning Book Club meets once per month at various member homes. This book club has attracted so many members that it meets in small groups to better facilitate discussion. Each group reads and discusses both fiction and nonfiction books chosen by its own members.
This Book Club is actively seeking new leaders as interest in reading and sharing continues to grow.
"While it is too early to say which text this year has been our favorite, we would probably all agree that while the book brings us together, it is the camaraderie we have developed that makes the first Monday of the month so special," shares Sherry Unruh, coordinator of one of the groups. "Coffee, tea, and snack delights greet us at every home, and we often find ourselves catching up on each other and our families for a good portion of the first half hour, setting the stage for feeling safe to offer opinions and debate literary situations."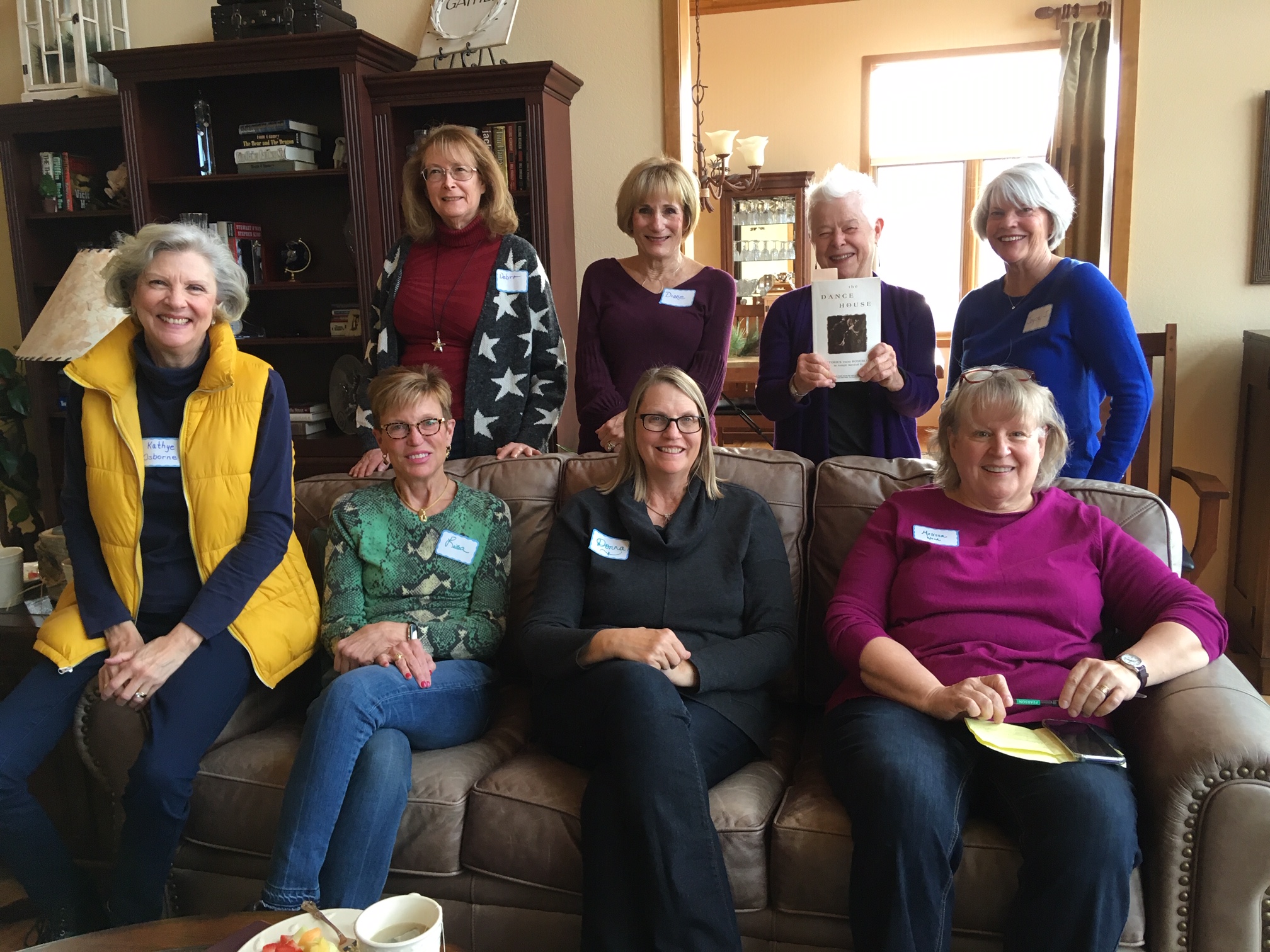 Back row, left to right: Debra Sloan, Diane Scruton, Caltha Crowe, Joyce Jacobsmeyer. Front row: Kathye Osborne, Lisa Zahn, Donna Pierce and Melissa Woods.
A sampling of books the groups have been reading include: The Stranger in the Woods, The All-Girl Filling Station's Last Reunion, Dear Mrs. Bird, The Children Act, The Red Coat: A Novel of Boston, Rosemary: The Hidden Kennedy Daughter, Rebecca, A Tree Grows in Brooklyn, Half-Broken Horses, A Lady's Life in the. Rocky Mountains, Recollections of a Rocky Mountain Ranger, The Dance House, All the Light We Cannot See, Rules of Civility, The Afghan, The Education of Little Tree, Born a Crime, Pachinko, Ross Poldark, Hillbilly Elegy, The Women in the Castle, Small Great Things, The Story of Arthur Truluv and Can This Be Home (by local author Bobbe Palmer).
The Morning Book Club groups carry forward the longstanding Newcomers Club tradition of great reading and sharing personal insight.
The TGIF Book Club
The purpose of the TGIF Book Club is to foster new friendships within our membership by getting to know each other while discussing books. It's simply: read the selected book, meet in a group member's home, bring an appetizer to share and your beverage of choice.
The TGIF Book Club is open to all! The only expectation is that you want to be in a book club that has an eclectic reading list. Each month we will read one book selected through member nomination and voted on by the group. Books may be fiction, non-fiction, contemporary literature, or a good old classic.
The intent is to create a small group setting for discussion, while accepting anyone who would like to join us. If we go over 15 members attending in a month, we plan to adopt a format much like Dining In - we would meet in multiple homes. The interest group co-leads would form randomly selected groups for each home. This way we would get to meet and socialize with a variety of Newcomers throughout the year. This group is also adapting the successful Wine & Cheese model by having participants bring an appetizer to share and their beverage of choice, giving the evening more of a social vibe.