NEWCOMERS BELIEVE IN ESTES PARK
We Believe in Estes Park is a community outreach project of the Estes Park Newcomers Club. We have partnered with the Town of Estes Park to join in celebrating the holiday spirit, while supporting several local non-profit organizations with their fundraising efforts.
Santa and his merry Newcomers elves will be busy all over town this holiday season, from family and pet photos with Santa to the Tree Lighting Ceremony to the feature attraction in the Town's annual Catch The Glow Parade. 
Santa needs our help. As a valued alumni of the Newcomers Club, we are inviting you to march with us in the Catch The Glow Parade this year. Newcomers is hosting the entire "Santa presence" for the parade - the grand finale of this huge Town event. A group of elves are even forming a dance troupe that will add to the festive atmosphere we are creating (learn more).
All are welcome - the more the merrier. You can bring adult guests to march in the parade with you. And everyone, including kids (who eat for free) are welcome at the After Glow pizza party following the parade at the community center!
THE BACK STORY
The annual Estes Park Catch the Glow Christmas celebration attracts over 30,000 visitors to Estes Park.  The lights, parade and community events highlight the beauty and open heart of our community and Rocky Mountain living.
In 2018, the Estes Park Newcomers Board decided to expand our community outreach activities, demonstrating our support for our new home and help support this vibrant small mountain community that has given us all so much.
We enjoyed the fellowship and expanded friendships that came from building our first Newcomers float and marching together in the 2017 Catch the Glow Parade.  Given that we have our own Santa and Mrs. Claus, who are Newcomers members, we decided to focus our community outreach efforts by working with the Town and many other non-profit community partners to deepen and strengthen the spirit of Christmas here in Estes this holiday season.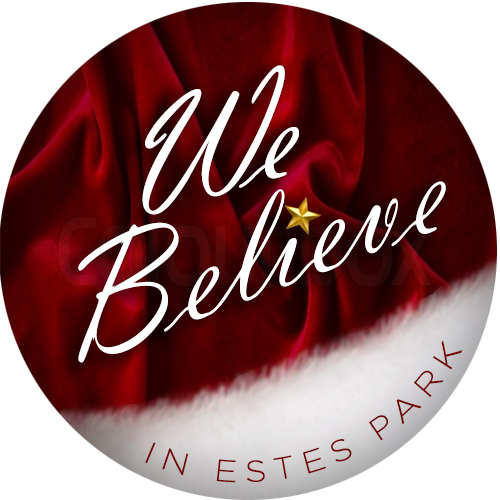 Thus - "We Believe In Estes Park" was born. We Believe is our major community outreach initiative for 2018.  We formed a task force, headed by Barb Prentiss Davis and began to evaluate opportunities, taking a two-pronged approach:
Work directly with the Town to enhance existing Town-managed holiday events - The town was seeking ways to make the Catch the Glow events more engaging and welcoming to both town residents and visitors.  We joined up with the Town of Estes Park and have a letter of agreement to focus our energies on three key community events, by providing Santa, Mrs. Claus and a team of merry elves for:

The Tree Lighting Ceremony
Photos with Santa
Staffing the Estes Park Santa float during the Parade and provide a large contingent of merry elves and festive holiday characters to lead Santa down the parade route.

Bring our own creative energy to partner with and support local organizations to spread the cheer.

We're working with Estes Park Police and using their cabin to create the "We Believe INN" cottage for photos with Santa opportunities.
We're partnering with the Library, American Legion, Pet Association, Community Center, Senior Services, American Legion, Lion's Club and EP Recreation to spread holiday cheer to children, families and seniors across our community.
So- now we invite you to join us in spreading the holiday spirit…because we all "Believe in Estes Park".  Our Santa's workshop is busy building sets, decorating the "We Believe INN", making elf costumes, purchasing supplies for events, distributing posters around town…the list is long, and we'd love to have your help. 
We hope that you'll consider bringing your time and talents for a short burst of Christmas energy from late November to mid December.  Our biggest event will be the Parade, where our presence and Santa will be the highlight of the evening and we hope that you, your family and guests will consider being part of the parade.  We have elf costumes, and Nutcracker Solder costumes for our entourage, or you can create your own festive wear.  Just come and have fun! When you sign up, a member of our planning team will contact you with more information and details about the events in which you have interest.
GET INVOLVED - SIGN UP HERE