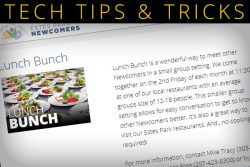 TECH TIP: Joining Interest Groups Online. Newcomers Club members have the opportunity to join other members in a wide selection of small group activities called Interest Groups. A listing of the Interest Groups can be found on the main Interest Group page.
A Complete Tour Of The Website:
Watch this series of short videos to take a complete tour of the Club website:
Have a question? Complete the form below to get answers.
Adding A Second Contact Within Your Household
Once you have added another contact to your account, they can have their own independent login and access to all website content and features as the primary account holder. Watch this short video that demonstrates how to activate a secondary login to your account:
New User Checklist
Register For The Next Meeting - the next meeting of the Club is shown below. (Registration is typically open two weeks before the meeting date):