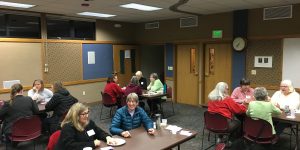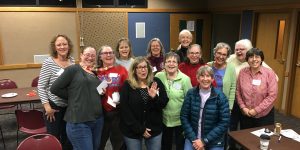 Ladies BUNCO is every 4th Tuesday of the month. What qualifications are needed???? NONE! This is a rowdy fun group of women that love to laugh and roll some dice. No skill is needed, and a $5 entry fee allows a pot of money to be won in three categories: most BUNCOS, most wins, and most losses. We play a total of three games of six rounds each. There is a minimum of 12 ladies needed and no maximum.
Don't be shy if you haven't played before. This game is quick and easy, and you'll have an opportunity to chat with different women every round. Just sign up on the Newcomer's website, and Linda Fromholzer, our wacky leader, will email you with all the info each month. An RSVP is required to ensure we have the minimum number players and plenty of snacks.
We currently meet at the Estes Park Library in the Hondius Room on the main level. Plan to arrive at 6:15pm so you can mingle and enjoy snacks brought by designated players (bring your own drink of choice). We begin playing at 6:30 and end at 8:00.
Ladies come join the FUN!!!