Welcome to Tech Tips! In this monthly series, our Tech Ops team will share simple tips and techniques to help you get the most out of the Club's technology resources.
Changing Your Password
In case you have had difficulty getting your website password changed, here are the instructions.
When you sign in and go to the "ABOUT YOU" page, it shows your profile and other account info. At the bottom of the box with your name and address, you will see the blue word "Change", as highlighted below in two possible layouts: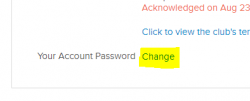 Click the word "

Change

".
Type a new password in the box that is displayed.
Press the Enter key.
Voila! Your password should be changed. Be sure to remember your new password for the next time you log in to the website.