The draw of the outdoors speaks to many Newcomers. So much so, that we now support THREE different interest groups devoted to hiking.
Newcomers Hiking Group
The pleasure of engaging in outdoor activities in such a scenic environment is one of many reasons why folks relocate to Estes Park. Engaging in a variety of conversations with fellow Newcomers adds an enriching dimension to the hike far beyond the scenery. The Hiking Interest Group has been a part of the Newcomers experience for a number of years. The Group's leaders take the time to conduct preview hikes to ensure that the experience will be positive, always keeping safety in mind. At a stopping point along the trail, hikers will often enjoy home-made treats from the leader, along with hot water and a variety of teas. Other times, the group will gather at a local coffee shop in Town afterward. Hikes are typically 4–6 miles round trip with an elevation gain up to 1,500 feet. We always have a great time - so come join us on the trail!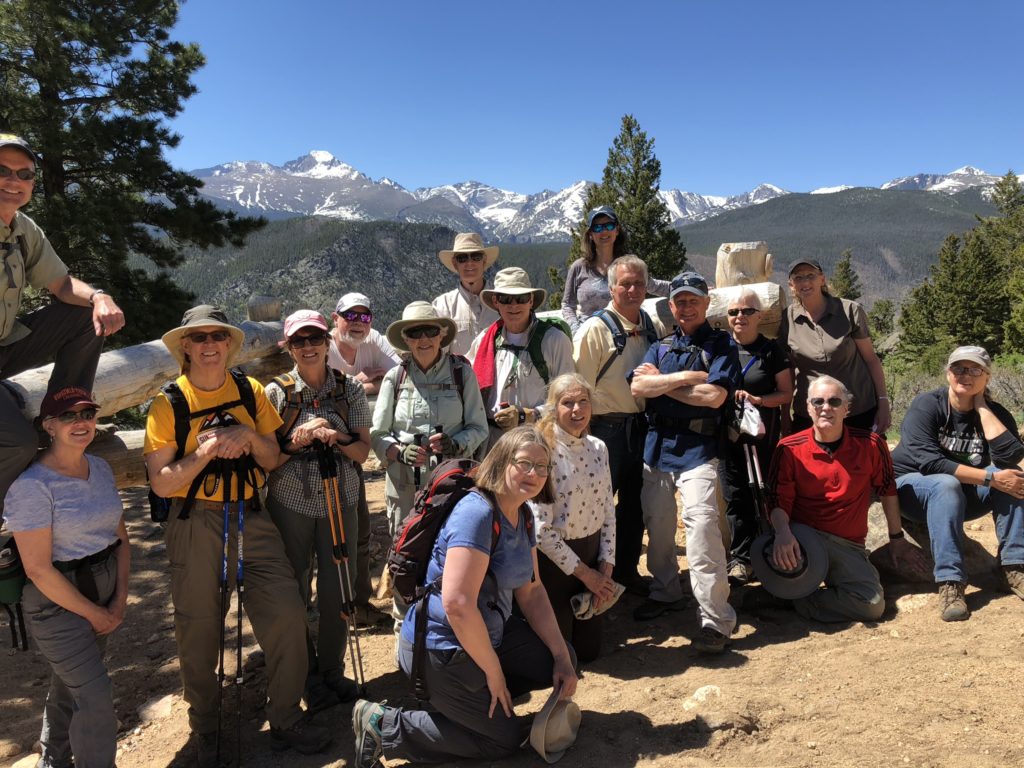 Weekend Warriors
Estes Park is a hiker's paradise. Stumble out your front door, and you are pretty much guaranteed to be on a trail within 15 minutes - truly one of the best aspects of living here! If you are like many Newcomers, the abundance of outdoor activities in this beautiful locale was at the top of your list when moving here.
In year's past, the Newcomers Hiking Group offered only weekday treks. This year a weekend hiking option was added for those of us who (regrettably) still work - and for folks who just want to get outdoors more often with a great group of hikers.
The Weekend Warriors have met four times thus far, typically on the last Saturday of the month. We hike between 3 and 6 miles with an elevation gain of about 1000 feet, allowing for enjoyable conversation while hiking and keeping time spent on those valuable weekends to 2-3 hours max. We have ventured into Rocky Mountain National Park and have taken a trip down the valley to Button Rock Preserve. The Weekend Warriors look forward to many more enjoyable Saturday mornings exploring the thousands of miles of trail this great State has to offer. We hope to see you on the next trail!
Easy Hiking" group
Once a month the "Easy Hiking" group sets out on an unpaved trail, either a loop or out-and-back, for about two miles with minimal elevation gain. On a recent hike, we walked into the Park from the end of High Drive, where we were greeted with open meadow and sweeping views of mountain peaks. On the way back we hooked up with a gravel road for a while, but most of it was on trail. Afterwards we typically gather at a local coffee shop. We look forward to seeing you on the trail!