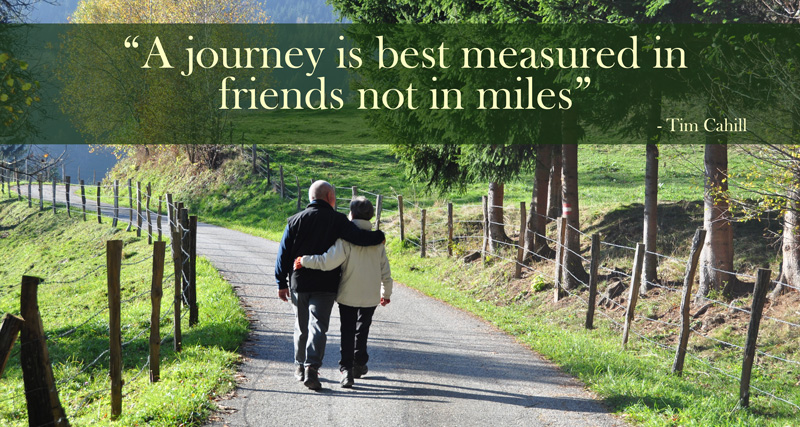 At some point, many of us made the bold decision to leave the familiar and comfortable surroundings where we had raised our families and built our careers, to start a new chapter of our lives in a little mountain town where we knew exactly...uh...no one.
The story line has become more and more familiar.
It seems that many of us are at different points along very similar journeys. I believe most of us found that the transition was far from complete with the physical move - there were other parts of our lives that needed to be reassembled.
Enter Newcomers. For Lisa and I, our journey from that point would go something like this:
It started with the Newcomers Monthly Meetings. The gatherings were warm, informative, and interesting. They were also sometimes crowded affairs where we could meet maybe only three or four people seated closest to us. And unfortunately for me, I struggled to remember even one name in that type of setting.
We would next discover Wine and Cheese. The casual mingling and conversation felt more comfortable, making name-face recognition much easier for me. Thank goodness for name tags! Heading into our second year, the Club starts to feel more familiar. And I remember even more names.
Going along it was the Interest Groups where many of our new friends would be found - sharing a meal in someone's home, playing a round of cards, or challenging one another to tackle a steep climb up a mountain - these were all experiences that forged the bonds of friendship.
As time went on, we each took on some responsibility within the Club - Lisa bringing new energy into the Hiking Interest Group, and me joining the Board to work on Special Events. And presto! Even more ways to connect with people. More friends.
From there, the opportunities and friends would multiply. Being the builder-type that I am, those Club and community projects were among the best friendship incubators for me.
Today, we spend time with our many Newcomer friends outside of Club events. We have hiking buddies, we arrange meetups at festivals and town events, maybe take in a movie, visit someone who is in need of some company, gather to celebrate a holiday, or watch the big game. Not to mention running into folks with amazing frequency in the aisles of Safeway!
So in those five short years, we now find ourselves blessed with the largest and closest network of friends we have had in our adult lives.
I think Tim Cahill got it right in his quote.