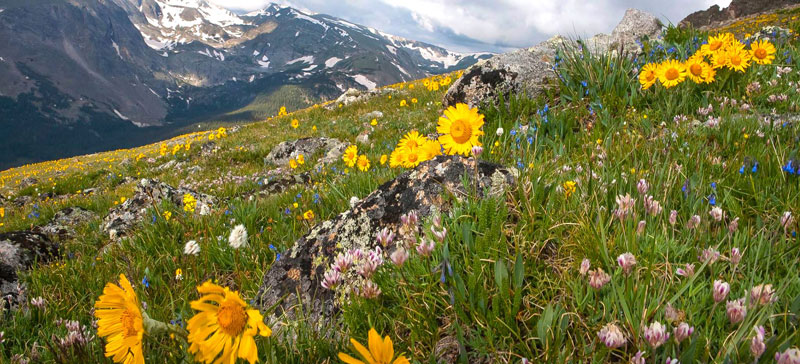 Spring Forward.
A catchy saying, and something we all do each spring.
Even though living up high means that spring may not bring the rush of warmer days, green grass and flowers that we've experienced in other places, its arrival in the Rocky Mountains holds the promise of all those welcome changes!
There are lots of quotes and sayings about spring...
"Spring is when you feel like whistling, even with a shoe full of slush." — Doug Larson
Hmmmm. Sounds like that author has visited Estes in the spring! With hiking being such a popular pastime among Club members, this quote has a familiar ring to it.
"We change just as the seasons change, and each spring brings new growth. So nothing is ever quite the same." — Sherwood Smith
Speaking of new growth - the arrival of spring brings more than 100 new members to our Club since last summer. Wow! That is both an exciting and challenging reality for our Club programming. And what a wonderful problem to have!
I predict that Newcomers will thrive with this new reality, even though it means we may likely have to adapt how we do things.
"Spring is a lovely reminder of how beautiful change can be." - Author Unknown
Newcomers is no stranger to change. Our membership turns over quickly, so change is never-ending for us. New people means new friends. And new ways to have fun. And new ideas.
Ideas like the new Bylaws, which members voted on and passed unanimously at the March General Meeting. This is an important step in the history of our Club, and we are setting several efforts in motion to ensure a smooth transition from the old to the new.
Following on the heels of this monumental change, your Nominating Committee has worked hard to develop an outstanding slate of candidates for next year's officers (you will be voting on them at the April General Meeting).
The Committee is also compiling an inventory of members' interests and experiences to help Club leaders get to know you better. I encourage you to participate in that effort by completing their simple online questionnaire.
"Spring is Nature's way of saying, 'Let's Party!" - Robin Williams
Maybe that one should become the Newcomers' motto.
Our next social event, Spring Fling, is just around the corner, happening Saturday, April 13th. We want it to be the biggest wine and cheese ever! So we've booked a large venue, added some live music and...wait for it…the Club is footing the bill. Yay!
Note: Even though there is no cost, the event planning team really would appreciate an RSVP online, please.
Let's Party!