Please join your fellow Newcomer friends for the next General Meeting on Wednesday, February 20 at the Rock Inn. Following our cocktail hour and dinner, we will enjoy hearing from local historian and naturalist Bruce Davies.
Bruce has produced his fifth recorded presentation specifically for this Newcomers meeting. It will prove to be one his most fascinating accounts as he details the lives of the wonderful people who created the lodging industry in Estes and Rocky Mountain National Park. Using historical photographs as well as some of his own photography, Bruce will weave a story that is at once interesting and inspiring as well as lighthearted and uplifting.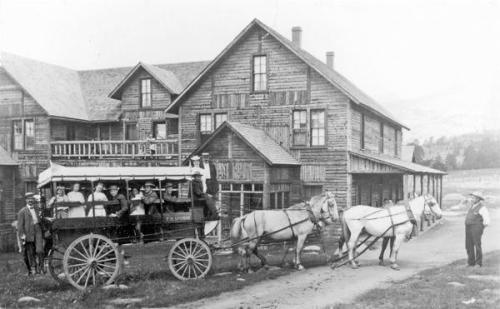 After constructing a modest homestead cabin, Abner Sprague decided to go into the resort business leading up to the construction of this three-story log hotel.
(Courtesy of Rocky Mountain National Park)
Bruce moved to Estes Park in 2009 and later took a position as concierge for The Historic Stanley hotel. While working there, he discovered his passion in the wonderful history of the area. Bruce became involved with the Estes Park Museum, first as a docent doing historical walking tours of the downtown area, and later serving on the Museum Friends board of directors. After people asked if he could take them to places he was talking about, Bruce decided in 2014 to start his own private tour company, Tour Estes Park. He has taken hundreds of visitors on historical expeditions into Rocky Mountain National Park and the Estes valley. Bruce also does a weekly talk at Rams Horn Village and has been a featured presenter at Baldpate Inn's Summer Enchanted Evening. When he is not traveling the country or conducting tours, Bruce can be found in the National Forest or around Lake Estes with his wife Sarah, walking their dog Raven.
Registration is required for this event, so to learn more and secure your spot, use the button below.