Please join the next General Meeting on January 17th at Latitude 105 (within the Ridgeline Hotel), where we will welcome everyone back from their holiday excursions and activities!
For this meeting we are experimenting with a new format that allows us to accommodate more members and provide better opportunities for socializing. Let us know what you think!
Reception
We'll start the evening in the Latitude 105 bar and dining room at 5pm. You can order your choice of beverage from the bar while enjoying a buffet of their delicious bar food. Latitude 105 provides lots of space to circulate with a mix of high top tables, casual seating, and dining tables, so that we can readily enjoy each other's fellowship.
Program
Following the reception, we will move to the hotel's theater space. The program includes a special speaker - retired NASA astronaut (and Newcomers alumnus) Loren Shriver.
Following his distinquished Air Force career, Loren became a Space Shuttle Pilot Astronaut and flew three Space Shuttle Missions - STS 51-C in 1985, STS 31 in 1990, and STS 46 in 1992. In 1993 he retired from the Air Force, completed his service as an Astronaut, and entered Civil Service with NASA.
He held Operations Management positions in the Space Shuttle Program Office and was Deputy Center Director for Launch and Payload Processing at the Kennedy Space Center.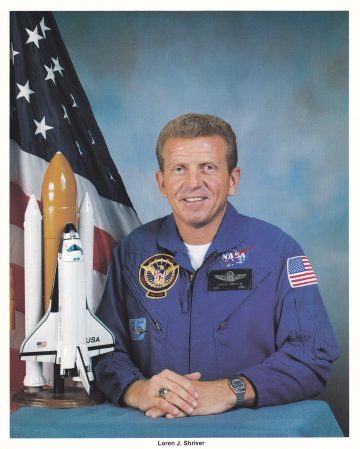 Registration
Registration is required for this event, so to learn more and secure your spot, use the button below.
---
Cost is $24 per person. You are encouraged to pay online by credit card, but you can elect to pay with cash or check at the event. Credit cards are not accepted at the event.
CANCELLATION POLICY: The deadline to cancel your registration is Thursday January 10, and you must send an email to registration@estesparknewcomers.org.