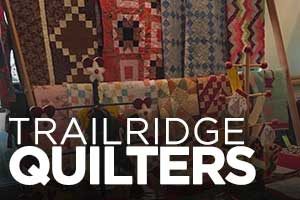 If you enjoy sewing, think about joining Trail Ridge Quilters from 1-4 p.m. each Tuesday at the Estes Park Health Longs Peak room. Our members can choose from a variety of patterns in our inventory or create your own projects. We host several sales throughout the year, and all proceeds are donated to EPH. Trail Ridge Quilters has been a part of Newcomers for 25+ years. Please come and join in the fun and be a contributor to Estes Park Health!
For more information, contact Donna Bryson (816-674-6642) or Donna Pierce (303-880-9151) or by email at Quilters@estesparknewcomers.org.
---
To join or see the members of this group, sign-in below.